Well, long time, no time to blog. Things here have been really crazy since November of last year. Now I am finding thing winding down a bit it's time to blow the dust off this thing and give it another go.
First, the excuses, I swear they are half way decent. For myself, my RA has really taken to flaring up this winter. I am thinking that it might be time to throw in the towel soon and admit that maybe I need to take the damn meds. I am however going to see what the summer brings. Because I like to rush into things that way.
My second excuse would be that my cousin was in a very bad car accident. She was out with four friends, on the freeway. The tire blew out and they rolled numerous times. My cousin and her boyfriend were thrown from the vehicle. The person in the car behind them guessed that she flew 30 feet into the air. Thankfully that person was a doctor, and the person behind him a police officer.
Unfortunatley my cousin and her boyfriend were feeling pretty stupid that day and weren't wearing seatbelts. They are both lucky to be alive. She broke her back in 2 places and they had to staple her head back together. She's only 21. Her boyfriend had to have surgery first to repair his kidney and spleen, and then to rebuild just about his entire arm. His elbow shot out. They never found it. Gross. So we've been spending a lot of time running between home and the hospital. I can't help but tell her everyday, buckle your damn seatbelt! She says she will from now on. WE even took the boys in to see her, as she is now our safety example.
On a lighter note, it's hot here! The boys want to spend most of their time in the pool. I feel fortunate when I hear friend complain that it is still snowing where they are. HA HA! SO for your enjoyment, here are a few picks of me and the boys enjoying the warm AZ sun.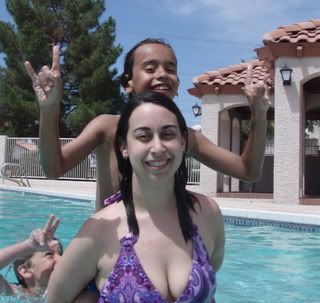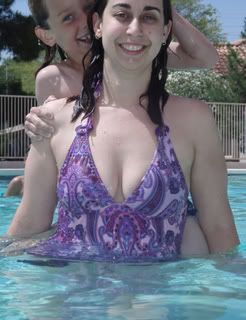 Are you jealous yet?